Daily Panchang 13 October 2020 for Today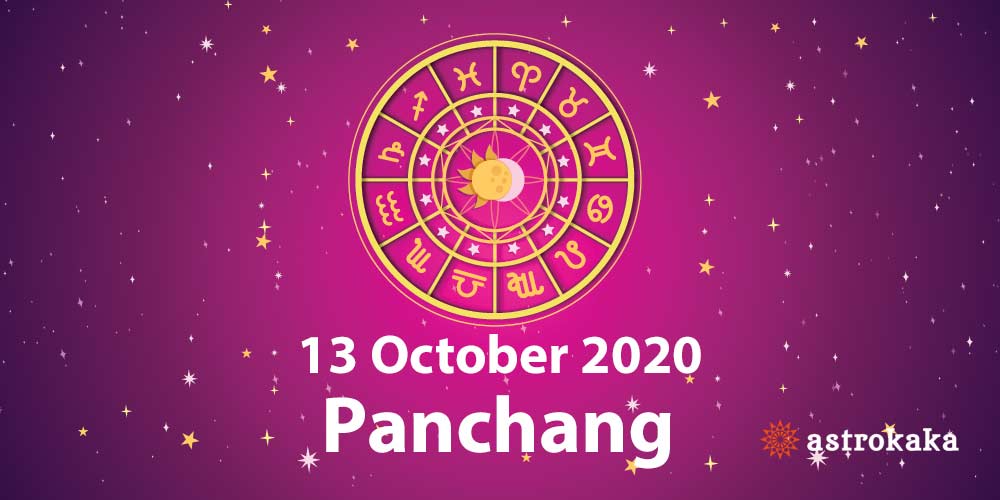 Today is 13 October 2020, Tuesday, the Ekadashi day of Krishna Paksha of Ashwina (Adhik) month. Vikram Samvat is 2077 Pramathi. The Sun is present in the southern hemisphere in the Dakshinayana state. It is the autumn season as per the Hindu Vedic Calendar. Ekadashi Tithi will remain prevalent till 02:37 PM after which the Dwadashi Tithi begins. Today, Surya Nakshatra will prevail in Chitra. Surya Rashi will be prevalent in Virgo while the Moon will stay in Leo sign.
Sunrise: 06:23 AM in the morning
Sunset: 05:57 PM in the evening
Moonrise: 03:19 AM of October 14
Moonset: 03:55 PM of October 14
Nakshatra: Today, the Magha Nakshatra will be continue till 10:58 PM after which the Purva Phalguni Nakshatra will begin.
Yog: Shubha Yog will continue till 05:46 PM after which the Shukla Yog begins.
Karana: Balava Karana will continue till 02:37 PM in the evening and then the Kaulava Karana will begin and continue till 01:22 AM of October 14 after which the Taitila Karana will begin.
Today's Auspicious Time (Shubh Mahurat)
Abhijit Mahurta period begins at 11:47 AM and last till 12:33 PM in the afternoon.
Vijaya Mahurta period begins at 02:06 PM and last till 02:52 PM in the late afternoon.
Godhuli Mahurta period begins at 05:45 PM and last till 06:09 PM in the evening.
Amrit Kalam Mahurta period begins at 08:43 PM and last till 10:13 PM.
Nishita Mahurta period begins at 11:46 PM at night and last till 12:37 AM of October 14.
Brahma Mahurta period begins on October 14 at 04:44 AM and last till 05:35 AM.
Today's Inauspicious Time (Ashubh Mahurat)
Ganda Moola period will prevail from 06:23 AM till 10:58 PM.
Yamaganda period will prevail from 09:16 AM till 10:45 AM in the morning.
Dur Mahurtam period will first prevail from 08:43 AM till 09:29 AM and then begin at 10:55 PM and last till 11:46 PM.
Gulikai Kaal period will prevail from 12:09 PM till 01:38 PM in the evening.
Rahu Kaal period will prevail from 03:03 PM till 04:30 PM in the evening.
Varjyam period will first prevail from 11:45 AM till 01:16 PM and then will begin again on October 14 from 06:13 AM till 07:40 AM.
AstroKaka | Last Modified: October 12, 2020