Daily Horoscope 15 October 2020 Astrology Prediction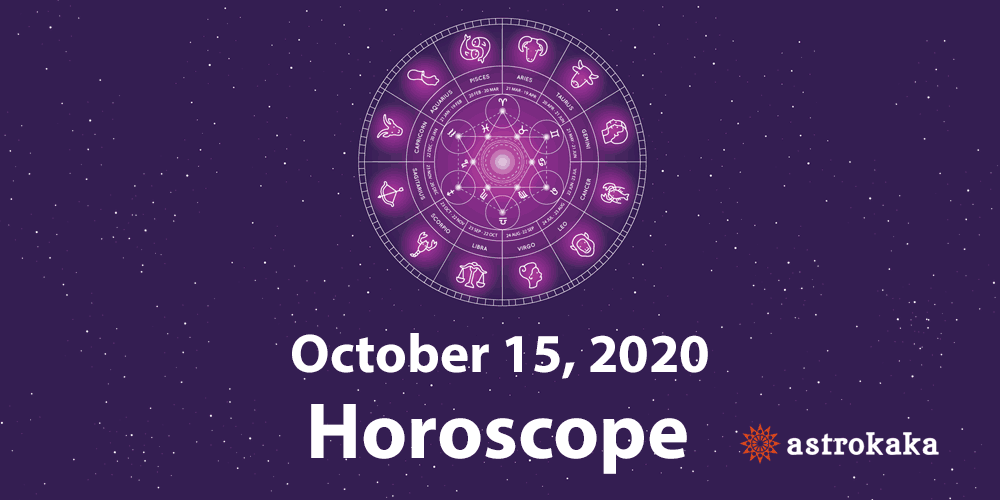 Today, the 15th of October 2020, Wednesday. Let us know the horoscope for today of all the twelve zodiac signs, which is calculated for this day based on the position of the stars, constellations, planetary movements and celestial positions.
Each horoscope reading has been calculated and analysed as per the positioning of each zodiac sign astrologically. By reaching out to you through our horoscope predictions, we hope it will assist you in making informed decisions by pre-empting upcoming situations. We wish you a bright day ahead and a successful life.
Let's not make you wait further. Here is today's Horoscope for October 15, 2020.
Aries
Financially and commercially, this day will be beneficial, Aries. You will be able to complete long-term financial planning. You will be able to make plans in business also. Your mind will be delighted by the work done for the purpose of charity. Health will remain good. You will have to be in constant public contact. There will be improvement in the health of the sick person who is near to you. You can expect financial benefits. It is your victory in the struggle with competitors, says AstroKaka.
Taurus
You will carry on the work sincerely even if you get small results in the ratio of hard work done, Taurus. The vastness of your expertise and the sweetness of speech will affect others and you will be able to benefit from it. Your sweet talk will help in establishing new relationships. You will be interested in art and reading and writing. A favourable time for learning. Avoiding outside food otherwise there is a possibility of a digestive system discomfort, says AstroKaka.
Gemini
AstroKaka says that high emotions will make your mind sensitive, Gemini. You have to stay away from a water reservoir or any form of water body and the fauna. There will be lack of decision power due to the condition of the mind being turbulent. There will be concern about the health of your mother. It would be beneficial not to take the interrogations of family or property in hand. There will be a lack of healthy sleep, which will impair physical and mental health.
Cancer
AstroKaka says that today success is looking at your path, Cancer. Because of this, pleasure will be amplified. The mind will experience freshness and prosperity. With friends, there will be a program to meet and with relatives as well. Plans will be made to go on vacations or tours. You will get strong support from the Goddess of luck. Competitors will be defeated in the field.
Leo
According to AstroKaka, your day will be fruitful, Leo. Long-term events will put you two steps ahead. Expected success will not be achieved at work. There will be an atmosphere of reconciliation in the family. The message of dealing with distant friends and relatives will prove beneficial. The amount of expenditure will be more than your income. Anger and ego will spoil your work.
Virgo
The melody of your speech will prove useful in establishing new harmonious relations, Virgo. Ideological prosperity will increase. You will get success with profit in business. Physical and mental health will also remain good. There will be a meeting with friends and loved ones. The gifts presented by them will please you. Sweetness will remain in your marital life.
Libra
Today you have to take care of your health, Libra. Mental health will also be low. Indiscriminate and arbitrary behaviour can get you in trouble. One has to keep restraint on speech, otherwise there is a possibility of conflict with someone. Money will be spent in fun and entertainment activities. Spiritual behaviour will be helpful during this time, according to AstroKaka.
Scorpio
With the blessings of AstroKaka, today you have the benefit in the field of business and occupation, Scorpio. With this, there is a sign of getting benefits from friends, relatives and elders. You will go to events like social function or a tourist spot. You will be very happy in body and mind. The sources of income will increase. Marriage prospects is being made for the unmarried. You will experience bliss in your worldly life.
Sagittarius
AstroKaka says that today your fame, reputation and status will increase. Being highly happy in the field will increase the chances of promotion. Health will remain good. There will be an atmosphere of joy in the family. There will be benefits from father's and government's side. You will be able to complete your financial plan well. There is a possibility of relocation of business. You will try to help other people. Sweetness will remain in your marital life.
Capricorn
AstroKaka says that today is a favourable day for trends like intellectual work or writing literature. New ideologies in your business will reshape your work. Unfavourable environment in the field of business will make your mind unwell. You will feel physical fatigue. The problem of children will bother you. Mistakes will cost money. Avoid debates with competitors.
Aquarius
AstroKaka advises you to stay away from prohibitive actions and negative thoughts today, Aquarius. When it comes to fights, avoid controversy, control anger and speech. The family atmosphere will be faint. You will experience financial crisis. Excessive brainstorming will cause mental fatigue. Remembering God and spirituality will lighten your mental burden.
Pisces
AstroKaka says to get out of daily tasks, today you will spend time in walking and entertainment, Pisces. You can go on a picnic with relatives and friends. Movies, theatre or going out for dinner will delight you. Artists and artisans will get an opportunity to showcase their art-work. Auspicious time to participate in business. More closeness can be established in marital life. You will get respect in public life.
AstroKaka | Last Modified: October 15, 2020